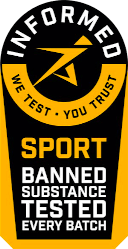 Consume 1 to 2 sachets per hour during exercise or as directed by your qualified sports nutritionist. Take with water.
| Per Serving | 50g |
| --- | --- |
| Energy kJ | 406kJ |
| Energy kcal | 96Kcal |
| Fats | 0g |
| of which saturates | 0g |
| Carbohydrates | 24g |
| of which sugars | 11g |
| Protein | <0.1g |
| Salt | <0.1g |
Active Ingredients
| Per Serving | 50g |
| --- | --- |
| Sodium | 20mg |
| Potassium | 28mg |
| Magnesium | 10mg |
| Caffeine | 80mg |
Water, Maltodextrin, Dextrose, Citric Acid, Natural Flavouring, Electrolytes (Sodium Chloride, Magnesium Carbonate, Potassium Chloride), Caffeine Anhydrous, Thickener (Xanthan Gum), Preservative (Potassium Sorbate), Sweetener (Steviol Glycosides).
Not suitable for persons under 18 years of age.
Please consult your doctor prior to use if you have a medical condition. 
If pregnant or lactating please consult your doctor prior to use. 
Keep out of the reach of children.
Do not exceed the recommended daily dose. 
Food supplements should not be used as a substitute for a balanced and varied diet. 
To find out more about our delivery options, including in the UK, EU and other destinations, please click here.
We take every care to ensure that you're satisfied with your product(s). If you'd like to find out more about our returns and replacements policy, please click here.
Key Benefits
Formulated to boost mental alertness and physical performance during exercise

 

Carbohydrate-based gel for fast-acting energy to support muscle and brain function

 

Offsets feelings of exercise-induced fatigue

 

Perfect for half-time energy and in the latter stages of endurance exercise

 
Product Information
The perfect partner to prolonged exercise, Energel+ Caffeine is our fast-acting carbohydrate-based energy gel, formulated with added caffeine in order to boost mental alertness and minimise feelings of fatigue; keeping you performing at your peak when it matters most. 
Containing 80mg of caffeine and 24g of carbohydrate-based energy per serving, this easy-to-consume gel offers fast-acting energy for the mind and muscle during prolonged periods of exercise, stimulating mental alertness to keep fatigue at bay whilst simultaneously providing rapid availability of glucose. Additional electrolytes also support hydration when the gels are consumed alongside additional liquid, helping to reduce instances of performance-limiting muscle cramps. Best consumed at half-time or during the latter stages of prolonged endurance exercise; ie. cycling, running, triathlon and swimming.  
Allergy Warning
This product is free from dairy and nuts, however it is manufactured in an environment that handles dairy.