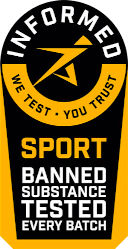 Mix 3 scoops (14.3g) in 500ml water and drink before, during or after exercise. Take 1 - 2 servings per day.
| Per Serving | 14.3g |
| --- | --- |
| Energy kJ | 183KJ |
| Energy kcal | 43kcal |
| Fats | 0g |
| of which saturates | 0g |
| Carbohydrates | 10.77g |
| of which sugars | 10.03g |
| Protein Dry Basis | 0g |
| Salt | 0.87g |
Active Ingredients
| Per Serving | 14.3g |
| --- | --- |
| Vitamin B3 (Niacin) | 3.2mg |
| Vitamin B5 | 1.2mg |
| Vitamin E | 1.8mg |
| Vitamin B6 | 2.8mg |
| Magnesium | 48.75mg |
| Calcium | 136mg |
Dextrose, Citric Acid, Sodium Chloride, Flavour, Inulin, Tri-Calcium Phosphate, Tri-Magnesium Citrate, Tri-Sodium Citrate, Colour (Beetroot Red), Fructo-oligosaccharides, Sweetener (Sucralose), Thickener (Xanthan Gum), dl-Alpha Tocopherol Acetate (Vitamin E), Niacinamide (Vitamin B3), Pyridoxine HCl (Vitamin B6), Calcium D-Pantothenate (Vitamin B5).
Not suitable for persons under 16 years of age
Please consult your doctor prior to use if you have a medical condition
If pregnant or lactating please consult your doctor prior to use. Keep out of the reach of children
Do not exceed the recommended daily dose
Food supplements should not be used as a substitute for a balanced and varied diet
This product contains a desiccant to help maintain the quality of your product.
Whilst we take care to ensure that your products are despatched efficiently, once the consignments leave our facility we are not able to guarantee that the courier will deliver on time on every occasion. However, we will always try to keep you updated with any delays.
Find out more about delivery in the UK, EU and other destinations here.
Key Benefits
Boosts hydration before, during and after exercise

Replenishes key electrolytes lost through sweat in a low-carb (2%) solution

30mM sodium solution

Helps to reduce chances of performance-limiting muscular cramps

Contains added Magnesium (49mg) and B-Vitamins
Product Information
Hydration is a vital element of any athlete's training strategy, with the loss of important electrolytes and water through sweat often having performance-limiting effects. Sometimes, water alone isn't enough to effectively replenish your body with the hydration it needs to perform effectively, so we've created Hydra 10 to do just that.
A great-tasting drink to take before, during and after exercise, Hydra 10 has been formulated with a unique blend of carbohydrate (2%) and electrolytes (30mM sodium solution) to replenish your body's vital stores, making sure dehydration doesn't affect your performance. Low-carb but high in sodium, we've added Magnesium to help prevent muscle cramps and a host of B-Vitamins known to help boost energy levels. Whether it's before a big game or competition, in the morning with breakfast, at half-time or after a training session, Hydra 10 will ensure your hydration levels are at their peak. 
Nutritional values may vary dependant on flavour. 
Allergy Warning
This product is produced in an environment that processes milk, egg, gluten peanuts, nuts and soy