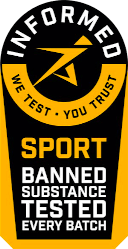 Take 1-3 softgels in the evening (with dinner)
Active Ingredients
| Per Serving | 1 Tablet |
| --- | --- |
| Fish Oil | 1000mg |
| Eicosapentaenoic acid (EPA) | 500mg |
| Docosahexaenoic acid (DHA) | 250mg |
Fish Oil, Caysule Shell (Gelatin, Glycerol, Purified Water)
Not suitable for persons under 16 years of age
Please consult your doctor prior to use if you have a medical condition
If pregnant or lactating please consult your doctor prior to use
Keep out of the reach of children
Do not exceed the recomended daily dose
Ensure lid is closed correctly after each use
This product should not be used as a substitute for a balanced and varied diet
Store in a cool dry place
For best before date and batch number see base
To find out more about our delivery options, including in the UK, EU and other destinations, please click here.
We take every care to ensure that you're satisfied with your product(s). If you'd like to find out more about our returns and replacements policy, please click here.
Key Benefits
Reduces exercise-induced muscle soreness 

Supports muscle growth and repair 

Helps to prevent loss of muscle mass when injured

Boasts a wide range of general health benefits
Product Information
Boasting a wide range of general health benefits, studies have shown that supplementing with Omega 3 can have a particularly positive effect for athletes thanks to its all-rounder reputation.
Along with helping to support good cardiovascular health, reduce the chances of developing arthritis and lower blood pressure, Omega 3 can reduce exercise-induced muscle inflammation, soreness and muscle damage, improve muscular hypertrophy and prevent the loss of lean muscle mass during times of injury. A great supplement for athletes and gym-goers, Omega 3 is quickly becoming one of the most frequently-used supplements in elite sport.
Allergy Warning
This product contains fish. For allergens see ingredients in bold