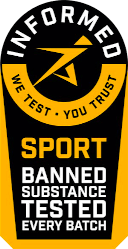 Take 1 chewable tablet per day with breakfast ideally. Could increase to 2 tablets per day during winter or as directed by
your qualified sports nutritionist.
Active Ingredients
| Per Serving | 1 Tablet |
| --- | --- |
| Vitamin C | 500mg |
Sodium Ascorbate, Vitamin C (as Ascorbic Acid), Bulking Agent (Dextrate), Sweeteners (Sorbitol, Sucralose), Flavouring, Citrus Sinensis Extract, Anti-Caking Agent (Magnesium Stearate), Colourant (Riboflavin (E101)).
Not suitable for persons under 16 years of age.
Keep out of reach of children.
Food supplements must not be used to replace a varied and balanced diet and heathy lifestyle.
Food supplement with: Vitamins, Sweeteners, Plant Extracts and Flavouring.
If you are pregnant, breastfeeding, taking prescription medication or under medical supervision, please consult a doctor or healthcare professional prior to taking any supplements.
Discontinue use and consult doctor if adverse reactions occur.
Excessive consumption may cause a laxative effect.
Do not exceed the recommended intake.
Do not use if seal is broken.
This product may contain ingredients that are of a natural origin which may result in colour variation. 
To find out more about our delivery options, including in the UK, EU and other destinations, please click here.
We take every care to ensure that you're satisfied with your product(s). If you'd like to find out more about our returns and replacements policy, please click here.
Key Benefits
Plays a crucial role in supporting and maintaining immune system function, particularly during and after extreme physical activity
Can help to reduce fatigue and tiredness
Assists with collagen formation in the body
Contributes to normal energy metabolism and functioning of the nervous system
Product Information
A well-known vitamin to most, Vitamin C can be found in many foods that we regularly consume on a daily basis, particularly fresh fruit and vegetables. A powerful nutrient used by the body in many ways, Vitamin C plays a key role in the repair of muscle tissue, the functioning of several enzymes and in supporting the immune system, making it a great all-round health and recovery support for athletes. 
Our daily Vitamin C tablets offer above the daily recommended minimum dose of 40mg per day to ensure your body is provided with optimal levels. This is particularly important during times of illness, where concentrations of Vitamin C that are naturally found in white blood cells can drop. It's therefore a good idea to supplement at this time to support immune system function, keeping you healthy and training unaffected.